Auto Repair You Can Trust
Car Mechanics in Duluth That Get You Back On The Road!
Get the best Oil Change Service, Transmission Repair, Brake Repairs, Engine Light Repair & So Much More!
Our auto mechanics focus on safety both on the road and inside our auto repair shop.
We are able to help motorists of any make or model. Just let us know how we can help!
Our local auto repair shop will always provide true honest and direct solutions for any car troubles. 
Auto Repairs You Can Count On Around Duluth Georgia!
Car Mechanics & Auto Repair in Duluth, Suwanee, Lawrenceville Georgia
We all have nightmare stories or experiences with an auto shop somewhere. All our mechanics understand this which is why we go out of our way to take care of all your auto repair needs in the most efficient way possible. Our mission is simple: exceed all expectations. We've been around long enough to where fathers bring their sons and daughters with their vehicles to us for routine service and car repairs. That's the highest compliment our customers can pay us. We do all we can to repay them by trying to be the best auto repair shop in Duluth.
Jimmy Tran started Southern Motor Works more than 12 years ago now with one goal in mind. He didn't like what he saw other auto shops doing with their customers. He didn't want to take any shortcuts with repairs, and he simply wanted to provide the best auto services around. He's assembled a team of highly trained, highly experienced mechanics together to deliver expert, affordable auto repairs.
About Southern Motor Works In Duluth
For over 12 years now, we at Southern Motor Works have been proudly serving customers from areas all around Suwanee, Sugar Hill, Lawrenceville, Buford, and Duluth to ensure their cars receive the best service in town! Call us today at 770-497-0771 to schedule an appointment for high-quality auto repairs at an affordable cost.
Car Repairs Duluth GA
No one enjoys car problems- or even routine vehicle maintenance for that matter. When you have issues with your vehicle, you need a good mechanic that you can trust. You also need an auto repair shop that can take care of you like you're important. That's Southern Motor Works. For nearly two decades now, our auto mechanics have been providing honest, affordable car repairs with the best quality parts in the quickest turnaround possible right here in Duluth Georgia.
Auto Repair in Duluth Georgia
Get the Duluth Mechanics to take care of your automotive problems.
We've worked with business owners in and around Duluth for many years now. We appreciate the history and culture of Duluth. Not only have we been members of the Gwinnett Chamber of Commerce for years now (located in Duluth), we've been helping local business owners with referrals.
Transmission Repair in Duluth Georgia
When transmission goes out and you need some help, it is best to call a professional mechanic that makes your transmission fix an affordable and reliable experience. Transmission systems can take some time to repair if damaged are at a high threshold. Commonly, the drivetrain or the transmission system refers to the gearbox found within an automobile. The drivetrain is built to include the clutch, gearbox, drive shafts, and other working parts. Transmission is essential for any motorist to have repaired because it offers the internal combustion engine an output for speed and operation of the vehicle.  If your transmission needs a repair, then your car is probably not functioning. Preventing transmission damages is key to a successful drive on the road. Keep your car healthy and you will be happy to have saved money, time and driving confidence.
Auto Repair Company in Duluth GA
Every car auto repair model offers a different repair experience. If you have any problems regarding transmission, engine damage, brake replacements, radiator repair, hose damages, air conditioning service, timing belt replacement, engine light, muffler damage repair, car tire alignment or any kind of internal engine problems. We have the auto repairs services for every driver who needs help. Come by our shop and get the best car services Duluth must offer. Quality auto repair should always start with diagnosis. When you get an inspection, we will follow through an automobile inspection process that is an ASE certified standard and custom to your car model and car year. Auto care is important to us. It is our job to be there to count on for complete auto maintenance. We are an auto approved engine service that will work toward getting your car fixed and safe so you can enjoy your drive without worry.
Affordable Mechanics When You Need One
Got auto trouble and need some assistance? Look to Southern Motor Works auto shop to find mechanics who know what you need to get your car back on the road. We create a working process that brings functional repairs to any car model you can name. Our job is to establish honest and rightful mechanical engine repairs so that your car will be well cared for. Get the best auto repairs that Duluth GA can offer! When the car breaks down on the road, you can call us to help! Affordable and friendly service is key to the success of our company and when customers are happy, we are happy.
An Auto Shop You Can Trust!
Auto Repair Shop in Duluth Georgia Believes in Quality Over Quantity!
Whether you ask Siri, Alexa, or Google " Where's the best auto repair near me " think Southern Motor Works. We understand that there are a lot of auto shops around Duluth, but at the end of the day, what makes Southern Motor Works more different is that you're going to be treated like family, and to us, family means everything. As soon as you walk in, you're going to get the best deal possible and the best car service and parts we can find. It's nothing but the best for our customers. In fact, we want to be the best auto repair shop in Duluth! 
And, if you're wondering "Where's are the best mechanics near me?", it's smart to think Southern Motor Works where we have ASE certified mechanics which is one of the best certifications any auto mechanic can earn. Match our outstanding training with our excellent customer service, and you're sure to have a great experience when you bring your vehicle to us. When you need an auto repair shop that cares, call Southern Motor Works and let us show you what it's like to be treated right. Don't turn up the radio on weird car noises, bring your vehicle to us today. Call our auto shop and let's get you back on the road again. Our affordable auto repairs are done right!
Duluth Georgia was originally Cherokee Indian territory. In fact, Old Peachtree Road used to be an Indian trail that connected Fort Peachtree (now called Atlanta) to Fort Daniel which was in Dacula. Once the railroad came along, Duluth Georgia was actually named after Duluth Minnesota. Since those days, it's grown to more than 20,000 residents and a hub of business and culture. Southern Motor Works is proud to help anyone who needs auto repairs around Duluth, Suwanee, Sugar Hill & Norcross. 
Affordable Car Repairs In Duluth GA
Quality Auto Repairs For Local Customers in Georgia
One of the world's largest advancements in modern transportation is the creation of automobiles. Although improvements have been made over the years, inevitable flaws are eventually encountered by every automobile owner. We at Southern Motor Works provide quality service for all of your car repair needs, from oil changes to battery replacements.
Whether your car needs immediate attention or a common inspection for possible issues, our affordable car repair service is available to all. By frequently having your car inspected and repaired, you can avoid serious issues that seem to occur at some of our busiest times in life. Keep your car in its best condition by giving it the repairs it desperately needs today! We are able to make auto repairs for any car make or model.
Duluth Mechanic Near Me
Here at Southern Motor Works in Duluth, we provide professional mechanics with extensive knowledge on diagnosing the issues with your car and efficiently solving them. Our honest mechanics will tell you a complete and detailed analysis of the damages your car may be suffering and how they will be fixing it. We promise to provide truthful information for our customers, explaining the full price of all repairs so that you won't be hit with large hidden fees that other companies tend to conceal until you're billed.
Along with our honest inspections, we at South Motor Works are dedicated to providing affordable service without compromising the quality of our work. We provide only the best parts for replacements and ensure proper installation to keep your car running smoothly.
Auto Repair Shops Duluth GA
Whether your visit is due to a routine inspection or an emergency repair, our mechanics are prepared to solve any of your vehicular issues. Our trusty mechanics are sure to provide quality work for all of your car repair needs! The repairs listed above are common issues our mechanics' encounter, but their skills are not limited to those listed above. Diagnosing problems that require repairs due to wearing out or immediate damage is a specialty that all of our trained mechanics are sure to possess.Common repairs we provide are:
Air conditioning service and repair
Brakes
Transmission repairs
Heating repairs or service
Engine repairs
General routine car maintenance
Fuel injection systems
Full tire service
Oil changes
Our car mechanics provide all the standard car services you'd ever need with routine vehicle maintenance such as oil changes, fluid refills, etc., but besides complete auto repair, we specialize in:
Heater service repair
Air conditioner repair
Transmission repair
Engine service & repair
Brake service
Japanese auto repair
Diagnostics
With skills such as these, we promise to have your car repaired and running in no time so that you can resume your busy life!
Auto Shop Near Me
Our skilled mechanics have been providing quality service to generations of families nearby. Over the years, our family of mechanics has built relationships with customers from all around Duluth. We work hard serving them with happy attitudes and friendly conversations. Next time you're in need of auto repairs, don't ask Google or Alexa, "Where's an auto shop near me?" Come to Southern Motor Works for both quality service and a familiar face.
"Southern Motor Works is the most customer oriented repair shop I have found in my thirty years of owning cars in Atlanta. All work comes with an inspection of the car and recommendations of repaired are given based on the risk to safety."
"I cannot explain how pleased I am with Southern Motor Works! I just moved to the area and needed my car seen ASAP and they made an effort to check it out despite how busy they were."
Mechanics Duluth GA
Whether your car just rolled off the lot or is from the last millennium, regular vehicle maintenance is a key component of keeping your car or truck on the road for years to come. The mechanics at Southern Motor Works do just that! Let's face it, car repairs can be expensive, and these days, it can be hard to find a trustworthy body shop that doesn't cost an arm and a leg. The mechanics here at Southern Motor Works will treat your car as if it were our own, and we'll get you back on the road again in no time.
Best Mechanics in Suwanee
With any auto shop, honesty is the biggest unknown, add it conjures up a bit of panic in some of us. In many cases, it's hard to tell whether the mechanic truly has your best interest or if they're just taking you, and your wallet, for a ride. For over a decade, the mechanics at Southern Motor Works have done nothing but fast, affordable, and honest work for each and every car that passes through. We believe that death, taxes, and car maintenance are all a part of life, however, we think that there are some outstanding mechanics to help make that 3rd one just a bit easier. Fortunately, we believe the best ones work here at Southern Motor Works.
Auto Shop in Duluth Georgia
The worst part of any auto damage or repair is when a mechanic is unable to fix it. Our mechanics are ASE certified and are some of the most experienced mechanics in their fields. In other words, if you have a car problem, there's a pretty high chance these guys will be able to fix it, no problem. For the mechanics at Southern Motor Works, providing excellent auto repair and auto care is more than just a job to hem, it's their livelihood. Each and every mechanic treats your car as if it were their own, so each and every meticulous detail to getting your car back on the road will be done and done right. Before you go to some overpriced shop and fork out thousands for what could be done for a few hundred, come see one of our mechanics for an honest and complete estimate of what needs to be done for your car. We take the time the other guys simply don't to ensure that you get a complete understanding of what needs to be done as well as what doesn't. Our mechanics truly believe honesty is the best policy. No complicated explanations. No unnecessary fees. No nonsense. Our mechanics want to make your repair as affordable, quick and hassle-free as possible. Our mechanics are your full services partner when t comes to keeping your baby on the road. Southern Motor Works and our mechanics specialize in, well, everything. Our mechanics are experts in all fields of routine maintenance (oil changes, tire rotations, tune-ups, etc.) to major auto overhauls. Regardless of the issue or service, you can trust the knowledge of the mechanics at Southern Motor Works. Our mechanics are qualified and ready to do the following services plus more!
Brake Service
Cooling Systems
Transmission Repair
Timing Belts
Heating Systems
Tire Rotation &Installation
Brake Servicing
Exhaust Systems
Electrical Issues
Need service that's not listed? Give us a call today at (770)497-077 or browse our other various services that we offer! Our mechanics are some of the most experienced in the state, and there's nothing that we can't do!
Why Choose Our Affordable Mechanics?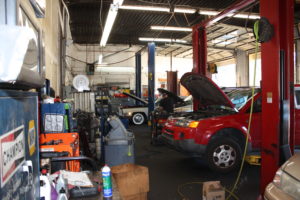 Since 2005, our mechanics and auto shop has prided itself on building strong ties with the Gwinnett community through excellent repairs, maintenance, and customer service. There are many benefits to keeping your car in its prime at Southern Motor Works such as:
ASE Certified Mechanics
– Our mechanics are some of the most highly trained and trustworthy mechanics in the game.
Free and Honest Quotes
– Unlike some of the other guys, we have you and your car's best interest at heart, and we fix only what needs to be fixed at a lower price.
Simplicity
– When your car is in need of maintenance or repairs, you want to know what needs to be done, how much it will cost you, and whether or not the mechanics know what they are doing in order to fix it. Our mechanics believe in telling you exactly what's being done and why. No confusing jargon. No deceit. There are dozens of auto shops in the Gwinnett area, and naturally, you want honesty and affordability. The mechanic and staff at Southern Motor Works accomplish this while not sacrificing one iota of quality because let's face it; we treat it like it's our car.
Auto Mechanics in Lawrenceville GA
After each trip to Southern Motor Works, we promise that you will drive away knowing that our mechanics did the job right and for the right price. We believe you will find it very comforting to leave knowing you weren't ripped off in any way by false fees or bad service. Regardless of our budget, the guys at SMW know what t takes to get your car back on the road and keep it there. In addition to our hometown of Duluth, people even bring their cars from all over Gwinnett. We have satisfied customers in Buford, Lawrenceville, Sugar Hill, and as far away as Suwanee.
Call (770)497-0771 today!
Your car will thank you. Click here to browse our other
mechanic services
.