Mechanics Duluth GA
Whether your car just rolled off the lot or is from the last millennium, regular vehicle maintenance is a key component of keeping your car or truck on the road for years to come. The mechanics at Southern Motor Works do just that! Let's face it, car repairs can be expensive, and these days, it can be hard to find a trustworthy body shop that doesn't cost an arm and a leg. The mechanics here at Southern Motor Works will treat your car as if it were our own, and we'll get you back on the road again in no time.
Best Mechanics in Suwanee
With any auto shop, honesty is the biggest unknown, add it conjures up a bit of panic in some of us. In many cases, it's hard to tell whether the mechanic truly has your best interest or if they're just taking you, and your wallet, for a ride. For over a decade, the mechanics at Southern Motor Works have done nothing but fast, affordable, and honest work for each and every car that passes through. We believe that death, taxes, and car maintenance are all a part of life, however, we think that there are some outstanding mechanics to help make that 3rd one just a bit easier. Fortunately, we believe the best ones work here at Southern Motor Works.
Auto Shop in Duluth Georgia
The worst part of any auto damage or repair is when a mechanic is unable to fix it. Our mechanics are ASE certified and are some of the most experienced mechanics in their fields. In other words, if you have a car problem, there's a pretty high chance these guys will be able to fix it, no problem. For the mechanics at Southern Motor Works, providing excellent auto repair and auto care is more than just a job to hem, it's their livelihood. Each and every mechanic treats your car as if it were their own, so each and every meticulous detail to getting your car back on the road will be done and done right.
Before you go to some overpriced shop and fork out thousands for what could be done for a few hundred, come see one of our mechanics for an honest and complete estimate of what needs to be done for your car. We take the time the other guys simply don't to ensure that you get a complete understanding of what needs to be done as well as what doesn't. Our mechanics truly believe honesty is the best policy. No complicated explanations. No unnecessary fees. No nonsense. Our mechanics want to make your repair as affordable, quick and hassle-free as possible.
Our mechanics are your full services partner when t comes to keeping your baby on the road. Southern Motor Works and our mechanics specialize in, well, everything. Our mechanics are experts in all fields of routine maintenance (oil changes, tire rotations, tune-ups, etc.) to major auto overhauls. Regardless of the issue or service, you can trust the knowledge of the mechanics at Southern Motor Works.
Our mechanics are qualified and ready to do the following services plus more!
Brake Service
Cooling Systems
Transmission Repair
Timing Belts
Heating Systems
Tire Rotation &Installation
Brake Servicing
Exhaust Systems
Electrical Issues
Need service that's not listed? Give us a call today at (770)497-077 or browse our other various services that we offer! Our mechanics are some of the most experienced in the state, and there's nothing that we can't do!
Why Choose Our Affordable Mechanics?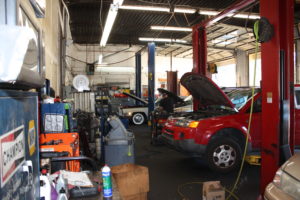 Since 2005, our mechanics and auto shop has prided itself on building strong ties with the Gwinnett community through excellent repairs, maintenance, and customer service. There are many benefits to keeping your car in its prime at Southern Motor Works such as:
ASE Certified Mechanics– Our mechanics are some of the most highly trained and trustworthy mechanics in the game.
Free and Honest Quotes– Unlike some of the other guys, we have you and your car's best interest at heart, and we fix only what needs to be fixed at a lower price.
Simplicity– When your car is in need of maintenance or repairs, you want to know what needs to be done, how much it will cost you, and whether or not the mechanics know what they are doing in order to fix it. Our mechanics believe in telling you exactly what's being done and why. No confusing jargon. No deceit.
There are dozens of auto shops in the Gwinnett area, and naturally, you want honesty and affordability. The mechanic and staff at Southern Motor Works accomplish this while not sacrificing one iota of quality because let's face it; we treat it like it's our car.
Auto Mechanics in Lawrenceville GA
After each trip to Southern Motor Works, we promise that you will drive away knowing that our mechanics did the job right and for the right price. We believe you will find it very comforting to leave knowing you weren't ripped off in any way by false fees or bad service. Regardless of our budget, the guys at SMW know what t takes to get your car back on the road and keep it there.
In addition to our hometown of Duluth, people even bring their cars from all over Gwinnett. We have satisfied customers in Buford, Lawrenceville, Sugar Hill, and as far away as Suwanee. Call (770)497-0771 today! Your car will thank you.
Click here to browse our other mechanic services.